http://www.stepbible.org/
Version 2.0 has just been released. The back story: STEP (Scripture Tools for Every Person) is free, high quality Bible software. Here's further information:
STEP 2.0
Bible software - Online and free
"It is our vision to equip churches in every country with the tools to study the Bible in its original languages from the best that Cambridge and international scholars have to offer," said Dr Peter Williams, Warden of Tyndale House. "While we've spent years pre-loading STEP with unique and cutting edge content, this re-launch is a significant stride toward making this accessible for all."
Simon Sykes, Librarian and Chief Operations Officer, explains: "The church is well served by an array of free Bible study tools available online, and by paid proprietary software on the desktop. We looked at both those models and realised that Tyndale House was in a unique position to combine them - the latest in biblical scholarship; online and at no cost."
Unique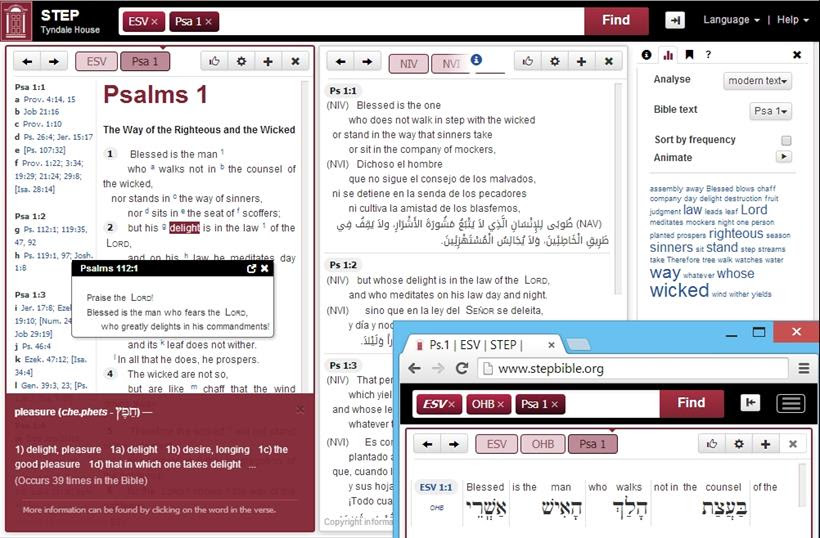 What characterises STEP is its focus on the original languages, with tools specifically designed to allow those with no Hebrew and Greek to understand the original languages of the Bible. Readers can explore how any word in a passage has been translated everywhere else in the Bible. Additionally readers can access full dictionary entries and see how the original word was used within ancient sources. STEP gives an interlinear view allowing readers to see an array of Bible translations with equivalent words under each other.
STEP is for everyone interested in the Bible, from those just starting to read it to those who want to dig deeper. Typing a few letters into a single box enables readers to pick a language, a Bible translation, a passage, a subject, or a word. It will work out whether readers want to find all the passages where a word or subject occurs, or if they just want to read a passage.
Those working in parts of the world with less access to resources will find STEP particularly useful, with hundreds of Bibles in many languages. We are deeply grateful to our partners: to Crossway, who have made the ESV available, to Biblica, who have made the NIV and other translations available, and to CrossWire, who have invested years in making Bibles accessible and whose work we have been allowed to build on. STEP also has over forty language interfaces, including Chinese, Russian, Spanish and Swahili.
Equipping the World Church
David Instone-Brewer, STEP's lead developer, describes the project's future in light of this release: "Volunteers and donors are helping with many exciting developments to make the Bible even easier to study: tools for in-depth Bible study; interfaces and dictionaries in many more mother-tongues; dedicated apps for phones and tablets; and a micro-SD version for places without internet access. We want everyone to be able to study the Bible, whatever their language, location or income."